Malvern Vinyl Seat Perching Stool With Padded Arms + Padded Back from NRS Healthcare
Go back
to products
Malvern Vinyl Seat Perching Stool With Padded Arms + Padded Back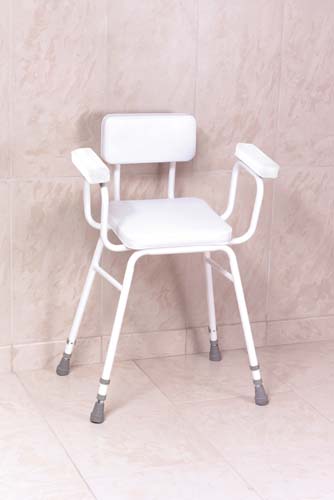 NRS Healthcare
Visit our website for more information
DISCLAIMER: East Lothian Health and Social Care Partnership does not have any affiliation or connection with these suppliers. ADL Smartcare and East Lothian Health and Social Care Partnership have no responsibility for the content once you leave this site.
Equipment Description
A perching stool allows users to sit at a comfortable height in the kitchen, bathroom and shower. The padded vinyl seat is slightly angled to enable user to sit and rise with greater ease. Made from epoxy coated steel for strength and durability. Vinyl seat tested to BS5852 pt 7 (Furniture and furnishing regulations). The pin clip position has been raised so that, even at full extension, all the adjustment holes are hidden preventing water gaining access and settling in the legs thereby reducing corrosion. Foot print: At lowest 55 x 42cm (21.5 x 16.5in), At highest 61 x 46cm (24 x 18in), Seat height range 53 - 68cm (21 x 27in), Width between arms 42cm (16.5in). Max weight 140kg (22st).