Jumbo TV Remote Control from NRS Healthcare
Go back
to products
Jumbo TV Remote Control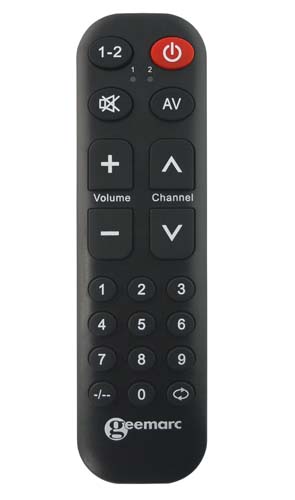 NRS Healthcare
Visit our website for more information
DISCLAIMER: East Lothian Health and Social Care Partnership does not have any affiliation or connection with these suppliers. ADL Smartcare and East Lothian Health and Social Care Partnership have no responsibility for the content once you leave this site.
Equipment Description
The Jumbo TV Remote Control is extra-large (28cm/11in) with large print buttons. This was designed with the elderly in mind, those with poor finger dexterity or impaired vision. This is also a universal remote that can replace up to 6 standard remotes and compatible to all major TV, DVD brands, and satellite and cable receivers such as Sky and AV amplifiers. The remote control includes standard functions such as volume, channels etc. plus many extras including Teletext and Fastext. Instructions included. Requires 2 x AA batteries not included.